Bushnell Speedster Series II Radar Gun - Bushnell Speedster Series 2 Radar Guns 101900 is the latest model of Bushnell Radar gun - exclusively from the biggest and best radar guns store you'll find anywhere! Bushnell Speedster II speed gun takes the simplicity of the best-selling Radar Guns Velocity Radar Gun, and adds a new advanced digital processor that allows you to switch between MPH and KPH any time you need! Finally, a more affordable sport radar gun in a configuration to fit your needs and budget! The Bushnell Speedster II Radar Gun 10-1900 is a handy, multi-functional speed gun for all kinds of sports enthusiasts. Bushnell Speedster 2 Speed Gun tracks miles per hour of everything from pitching speeds, tennis serves and downhill skiers to cars on the racetrack.
This Bushnell Radar Gun can measure the speed of a baseball at 10-110 mph from over 75 feet away, and can measure the speed of a race car from 10-200 mph at over 1300 feet away. This radar gun features a highly legible 4-row LCD graphics display, trigger and 2-way button pad. The Bushnell Speedster II Speed Gun uses proven digital technology and DSP (Digital Signal Processing) to provide instantaneous and real time speed measurements of +/- 1.0 mph speed accuracy. Bushnell Speedster Radar Gun Series II supports both MPH and KPH speed modes. On the Bushnell Speedster II, to change from MPH to KPH or vice versa, make sure the unit is "ON". Next, pull the trigger and leave engaged, and quickly press the button underneath the LCD display (quick presses of the button will toggle between MPH and KPH. When you are satisfied with the desired measurement unit, simply release the buttons.
The following KIT packages are available with the Bushnell Speedster2 Radar Gun:
Bushnell Speedster II MEGA Kit 2 includes Bushnell Speedster II Radar Speed Gun 101900, S3 Waterproof Dry Protective Box T-6500-3 Black and Free Batteries.
Bushnell Speedster II VALUE Kit 2 comes with Bushnell Speedster II Radar Speed Gun 101900 and Batteries.
Do you want to play a cop, busting speeding cars on your street with your radar-gun, but do not want to spend the money on a police radar gun or a laser LIDAR? Or you like going fast in your car and want your friends to check your car's exit speed from a difficult slalom on a race course? Or maybe you just want to track speeds of baseballs, softballs, or tennis balls, and see various statistics and averages right there in real time. You do not have to go to a baseball store to find a perfect baseball gift! We have one of the best radar guns at a price you can afford! Bushnell Speedster II radar gun makes a great gift for anyone who loves speed in one form or another. Accept no cheap radargun imitations - this model comes with the full two year warranty from Bushnell. We are an Authorized US Distributor of all Bushnell Performance Optics products. For a wide selection of Bushnell Radarguns please visit our Bushnell Radar Guns Page.
Want to learn how radar guns work? Make sure to read our Bushnell Speedster FAQ.
---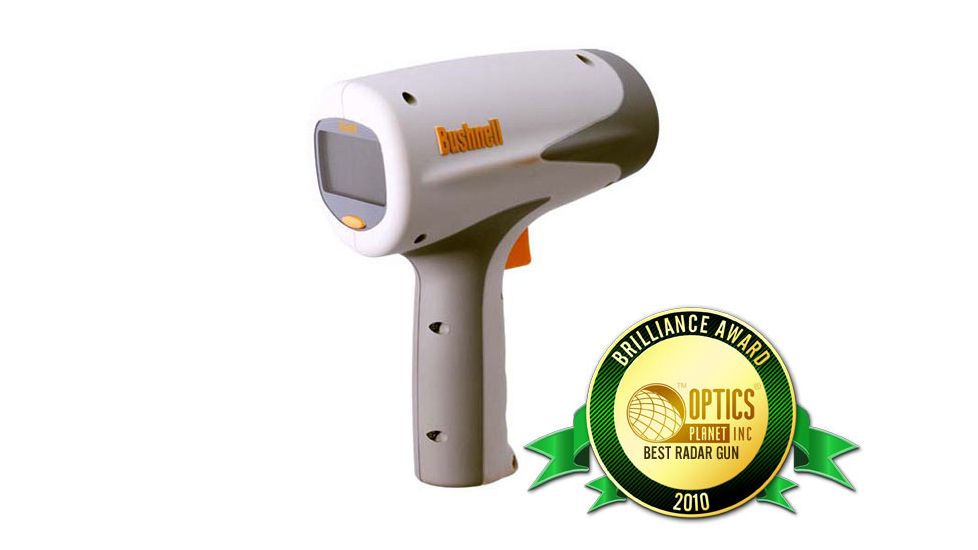 Bushnell Speedster II Radar Speed Gun - Handheld Cordless 101900
RATING
94.5 /100
Design

Excellent

Performance

Excellent

Value for money

Excellent

Feature

Excellent
Specifications for Bushnell Speedster II Speed Gun:
| | |
| --- | --- |
| Baseball, softball, tennis range: | 110 mph / 100 Feet Away |
| Cars, boats, karts, auto racing: | 10-200 mph / 1300+ Feet Away |
| Size (in. / mm): | 4.3 x 8.4 x 6 / 109 x 213 x 152 |
| Weight: | 19 / 539 |
Features of Bushnell Speedster II Radar Gun 101900:
Easy-to-use speed gun - accurately measures speed of cars, baseballs, softballs, RC cars, RC boats, etc..
Compact & Ergonomic Radar gun design - comfortable Bushnell point-and-shoot pistol grip
Displays Speed on an LCD Graphics Display
Displays fastest speed once trigger is released
RF Radar gun with +/- 1 mph /1 kph accuracy
Two C batteries (please see our options above for optional alkaline and rechargeable C-batteries)
---
---