Price Save 25% from $39.99 to $29.99
GG&G Mossberg 500 Quick Detach Sling Attachment Point GGG-1469 is a versatile, flexible way to mount your gun sling to your Mossberg shotgun. The Mossberg 500 shotgun is one of the most popular Mossberg shotguns in the marketplace, and there are plenty of weapon accessories crafted for it. Not every shotgunner likes to use slings outfitted with the HK-style quick clip or mash hook, yet they would still like to have the tactical flexibility that a quick detach sling provides. GG&G Tactical has developed a solution for those shooters; the GG & G Mossberg 500 Quick Detach Rotating Sling Attachments. The front attachment point is easy to install, features limited sling swivel rotation, and comes equipped with heavy duty QD sling swivels that accommodates 1 1/4" webbing. These GG&G weapon accessories are dehorned to prevent cutting yourself or your gear on them, making them safe to use in the most frenetic tactical situations. If you are an avid Mossberg 500 shooter, we think you'll like the GG and G Mossberg 500 QD Sling Attachment w/ Swivel.
---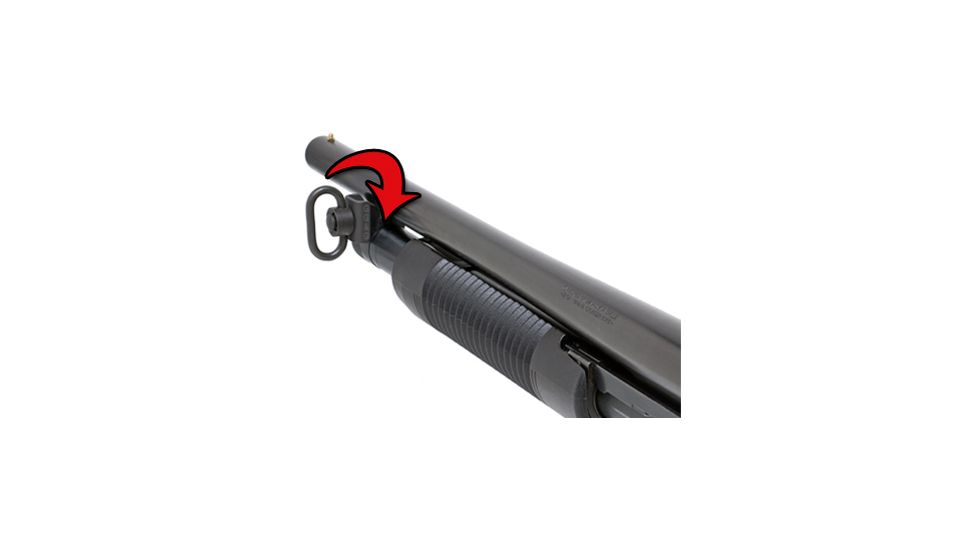 GG&G Mossberg 500 QD Front Sling Attachment
RATING
93.5 /100
Design

Excellent

Performance

Excellent

Value for money

Excellent

Feature

Excellent
Specifications for GGandG Mossberg Shotgun Quick Detach Dehorned Sling Attachment:
| | |
| --- | --- |
| Gun Model: | Mossberg 500 |
| Finish: | Matte Black |
| made in specialized factories: | Yes |
Features of GG&G Mossberg 500 Quick Release Sling Attachment Point w/ Rotating Swivel:
Rugged sling attachment point by GG&G
Designed specifically for the Mossberg 500 shotgun
Compact and easy to install.
Ambidextrous
Provides a side QD sling mount
With just a push of the QD button, unsling your Mossberg 500 shotgun for tactical flexibility.
Includes Heavy Duty Quick Detach Sling Swivel.
QD Sling Swivel accommodates up to 1 1/4" slings.
Includes the Limited Rotation Sling Swivel feature to help eliminate sling wrap up.
Manufactured from tough AS-35 Geneva steel.
All edges have been dehorned for shooter's safety.
Bead blasted and manganese phosphate finished in matte black per mil-spec.
---
---