Hone your hunting skills by using this ATN OPMOD ThOR LT Thermal Rifle Scope on your next outing. Reveal every detail of your target with the 1280x720p HD display in either Black-hot or White-hot mode that comes standard in every one of these OPMOD thermal imaging scopes. The one shot zero feature makes adjustments in the field a breeze, and this optic is incredibly easy to mount on 30mm standard rings. This ATN ThOR LT Ultra Light Thermal Riflescope knows how to conserve energy, offering 10+ hours of continuous battery power to cover the duration of your entire hunt. With a weather resistant IP rating and hardened aluminum alloy construction, this scope is prepared to face adverse weather conditions and the severe recoil your firearm produces. Another benefit of having such a lightweight optic is that you can place it on crossbows, air rifles, or other weapons that might not be able to handle heavier weight on their mounting platforms. The OPMOD Exclusive ATN ThOR LT comes with ATNs Quick Detach Mount, a 99 value. Take advantage of the multiple profile manager of your scope, move it from platform to platform and still retain your zero.
The ATN OPMOD THOR LT comes with a NEW reticle not found in any other model of ATN THOR. It features the acclaimed 68 MOA circle dot reticle, widely known as the world's fastest! Along with speed comes intuitive ranging capabilities. For instance, the 68 MOA circle is the approximate height of a person standing when they are 100 yards away, and at 200 yards the person fills only the lower half.
For deer and similarly sized game with approximately 16" back/chest height, the reticle touches both the top and the bottom of the 68MOA circle, and at 50 yards, from the center aiming point to the bottom of the circle. At 100 yards, the animal's body covers the lower 1/4 of the reticle. This makes the reticle perfect for hunting day or night!
Take down targets day or night with this premium ATN ThOR LT HD Thermal Riflescope.
OPMOD units come with a Free QD Mount that you do not get with inline ATN items.
Covered by ATN 3 Year Product Warranty
What Makes This an OPMOD
Exclusive KIT with a free QD mount
OPMOD on the body of the unit
Special custom reticle for hog hunting
Amazing price
---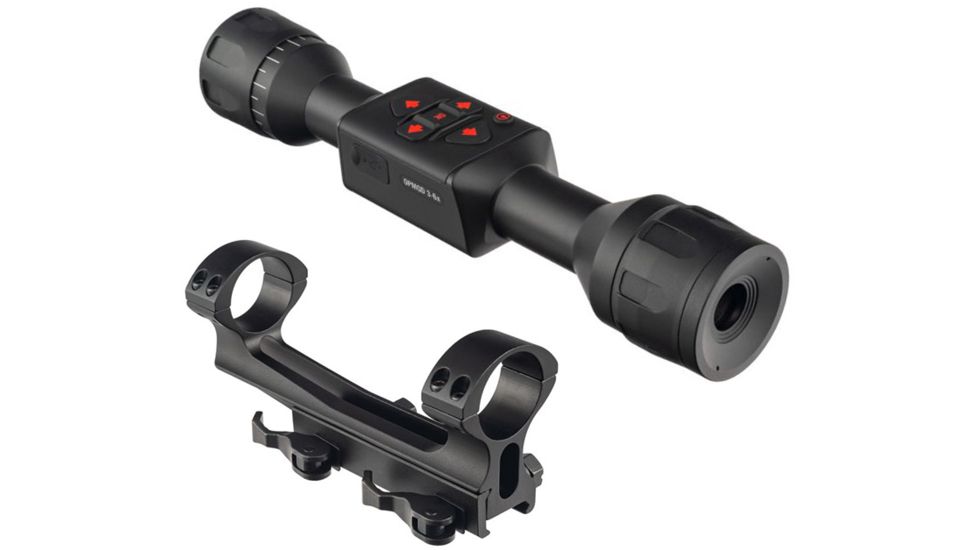 ATN OPMOD ThOR LT 3-6x Thermal Rifle Scope, w/ Custom Reticle and FREE QD Mount
RATING
91.5 /100
Design

Excellent

Performance

Excellent

Value for money

Excellent

Feature

Excellent
Specifications for ATN OPMOD ThOR LT 3-6x Thermal Rifle Scope, w/ Custom Reticle and FREE QD Mount:
| | |
| --- | --- |
| Color: | Black |
| Magnification: | 3 - 6 x |
| Tube Diameter: | 30 mm |
| Sensor Resolution: | 160x120 pixels |
| Display Resolution: | 1280x720 pixels |
| Refresh Rate: | 60 Hz |
| Eye Relief: | 90 mm |
| Attachment/Mount Type: | Ring |
| Battery Life: | 10 hours |
| Operating Temperature: | -20 - 120 Fahrenheit, -28 - 48 Celsius |
| Weather Resistance: | Yes |
| Length: | 292 mm, 11.5 in |
| Width: | 2.2 in, 56 mm |
| Height: | 2.2 in, 55 mm |
| Weight: | 1.4 lb, 650 g |
| Additional Features: | White Hot/Black Hot Color Modes, ATN Obsidian Core LT, 3D Accelerometer |
| Included Accessories: | Scope Cover, USB-C Cable, Eyecup, Lens Tissue |
| Battery Quantity: | 1 |
| Magnification Type: | Variable |
Features of ATN OPMOD ThOR LT Thermal Rifle Scope
Black Hot / White Hot viewing modes
One shot zero
Easy to use User Interface
Weather resistant
Recoil resistant
Can be mounted onto crossbows, air rifles, and other platforms due to lightweight construction
ATN Obsidian Core LT
3D Accelerometer
Multiple reticle patterns
Multiple reticle colors
Mounts using 30mm Standard Rings
---
---
PROS

Great price for what you get
Simple & Solid
Simple operation
easy to use
included qd mount
cost less
Ease of use
white/black hot is great
range is good for the scope
price (very affordable)
custom reticle
10 hr battery life/ease of use
battery life
Price and install ease
Lightweight & accurate
CONS

low resolution
Not putting the water resistance to the test LOL
#OPMOD