The CRKT KISS ASSist takes the revolutionary elements of the compact K.I.S.S. series and transfoms them into an assisted opener. Thoughtfully designed and loaded with precision machining, the CRKT K.I.S.S. ASSist Knife features the patented CRKT OutBurst assisted opening with the patent-pending Fire Safe mechanism. When closed, the knife blade is safely locked by a special cam-over pin that extends from the assist spring, so the KISS ASSIST cannot be opened until the safety button on the end of the thumb stud is firmly depressed and the thumb stud is nudged outward. This system is both very fast, and very safe, because simply pressing the Fire Safe button does not open the knife. You must both press down and nudge the blade outward deliberately.
The Columbia River K.I.S.S. ASSist Folding Knife also makes one-hand closing fast and easy. The mechanism is covered by a thin lightweight layer of inset carbon fiber. When closed, the single-sided blade is securely sealed by the single glass filled nylon guard. The AUS 4 stainless steel blade receives a high satin finish, while the 420J2 stainless steel frame has a contrasting non-reflective bead-blast surface. All models have a removable bead-blast stainless steel pocket/money clip.
The CRKT K.I.S.S. Assist Knives are handsome assisted-opening knives with fast opening, rigid lock-up, and a sophisticated high-tech mechanism that is integrated into the frame, all with a weight that is only slightly more than the original K.I.S.S. Knife.
---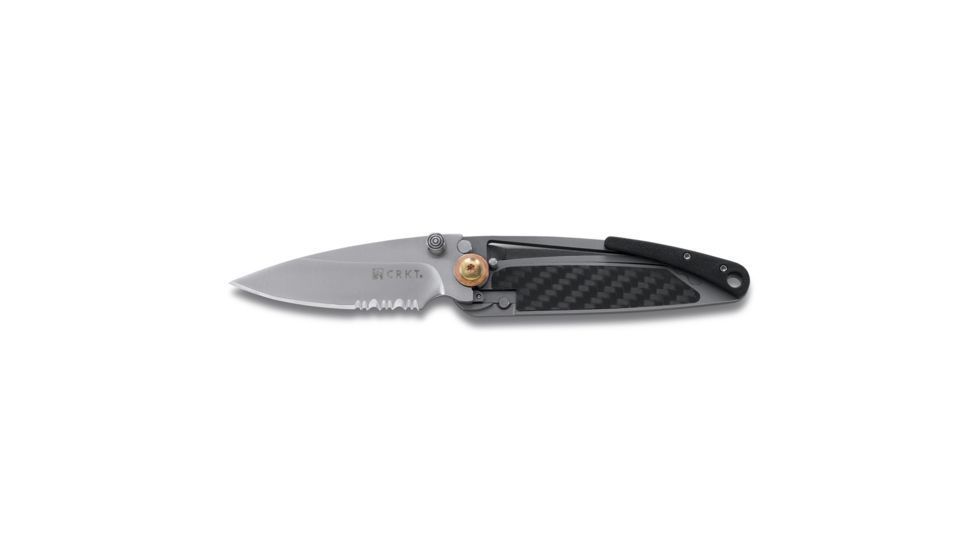 CRKT K.I.S.S.ASSist 2.75in Assisted-Opening Knife
RATING
91.75 /100
Design

Excellent

Performance

Excellent

Value for money

Excellent

Feature

Excellent
Specifications for CRKT K.I.S.S.Assist - Assisted Opening K.I.S.S. Knife:
| | |
| --- | --- |
| Open Overall Length: | 2.75 inches |
| Closed Length: | 3.875 inches |
| Weight: | 2.5 ounces |
| Blade Length: | 2.75 inches |
| Thickness: | 0.119 inches |
| Material: | AUS 4 |
| Blade-HRC: | 55-57 |
| Finish: | Satin |
| Grind: | Hollow |
| Handle Liner: | 420J2 |
| Lock Type: | Frame Lock |
| Carry System: | 1 Position Clip |
| Fire Safe: | Yes |
| Patent: | Patent Pending |
Features of CRKT KISS Assist Folding Knife:
Compact assisted-opening knife
---
---