Price Save Up to 35% from $2999 to $2199
The TRYBE Defense PVS14 Night Vision Monocular is a multi-purpose Night Vision Monocular, widely used by the US Military and its allies. The TRYBE Defense PVS-14's light-weight, single-battery, battle-proven design with state of the art Gen 2 Green or Gen 3 Green and White image intensifier tube technology as well as variable gain control allowing the user to increase or decrease image tube brightness for greater image contrast in varying light conditions makes it one of the best systems of the market at an amazing price for either generation model!
Designed for the most demanding night time law enforcement or military applications, the TRYBE Defense PVS-14 Night Vision Monocular can be handheld, head-mounted, helmet-mounted, weapons-mounted, or attached to a camera or camcorder.
---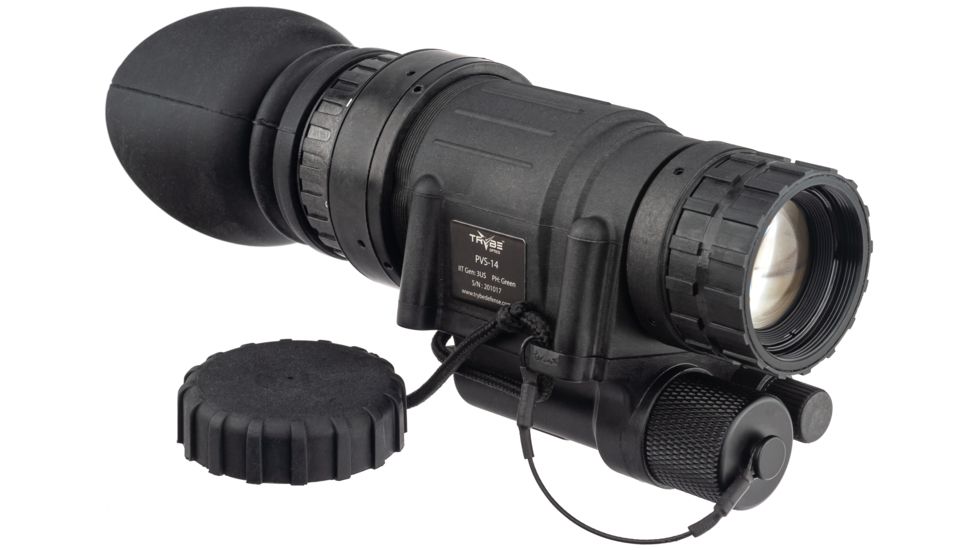 TRYBE Defense GEN2 And GEN3 PVS-14 Night Vision Monocular
RATING
96 /100
Design

Excellent

Performance

Excellent

Value for money

Excellent

Feature

Excellent
Specifications for TRYBE Defense GEN2 And GEN3 PVS-14 Night Vision Monocular:
| | |
| --- | --- |
| Objective Lens Diameter: | 1 in |
| Magnification: | 1 x |
| Field of View, Angle: | 40 degrees |
| Battery Type: | AA |
| Length: | 4.5 in |
| Eye Relief: | 25 mm |
| Battery Quantity: | 1 |
| Diopter Adjustment Range: | -6 - 2 dpt |
| Dimensions: | 4.5 x 2.5 x 2.75 in |
| Magnification Type: | Fixed |
| Height: | 2.75 in |
| Width: | 2.5 in |
| Color: | Charcoal |
Features of TRYBE Defense PVS-14 Night Vision Monocular
Warranty: 2 Years on Tube and Housing
Generation: 3
Technology: Pinnacle
Photocathode: Thin Filmed
Resolution: 64 to 72 lp/mm
Signal to Noise Ratio: 22 min
Data Sheet provided: Yes
Field of View: 40
Magnification: 1X
Diopter Adjustment: -6 to +2
Eye Relief: .98in (25mm)
Submersible: 66 feet (20 meters)
Objective Lens: 1.02 in (26mm), f/1.2
Focus Range 9.8in(2.5cm) to infinity
Power Source: 1 AA-Size Battery
Operation Time: 50+ hours
Weight (w/o batteries monocular only): 10.8oz (306gr)
Size (monocular only): 4.5in L x 2.5in W x 2.75in H (114x64x70mm)
Autogated: Yes
---
---