Price Save 25% from $132.99 to $99.99
Designed to perfectly pair with Camp Chef 14 in. stoves, the Camp Chef Professional Grill Box brings some serious grilling capabilities to your campground. These Outdoor Grills by Camp Chef utilizes a patented heat diffuser system that minimizes hot spots and converts flames into infrared heat to evenly cook kabobs, salmon, and whatever else your hungry heart desires. The Camp Chef Deluxe BBQ Grill Box delivers the richest flavors by vaporizing grease drippings. This grill is outfitted with pre-seasoned cast iron grates so you can start cooking up culinary creations straight out of the box. It has a built-in temperature gauge so that you can properly monitor whatever you're grilling. Easily transport this device with latch locks and a lid handle. Turn your campground into a luxury kitchen when you serve up some serious eats on this Camp Chef BB30L Grill Box.
---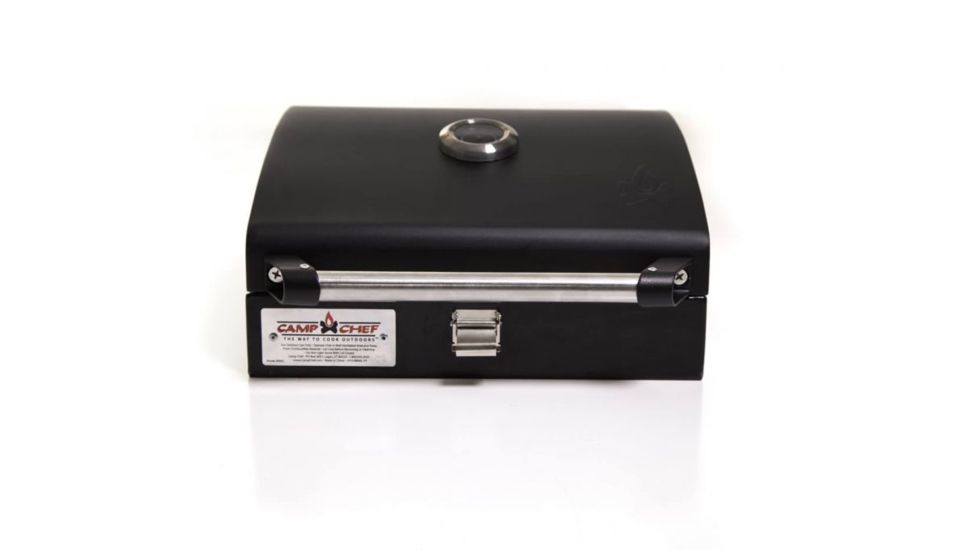 Camp Chef Professional Grill Box
RATING
86.5 /100
Design

Excellent

Performance

Excellent

Value for money

Excellent

Feature

Excellent
Specifications for Camp Chef Professional Grill Box:
| | |
| --- | --- |
| Color: | Black/Grey |
| Packed Size: | 14 x 16 x 8 in / 36 x 41 x 20 cm |
| Fabric/Material: | Cast Iron grill grate |
| Weight: | 22 lb |
| Stove Type: | Liquid Fuel Stoves |
| Fuel Type: | Propane |
| Auto Igniter: | No |
Features of Camp Chef Professional Grill Box:
Fits all Camp Chef 14" Stoves.
Covers one burner on 14" Cooking System stoves.
Specially designed heat diffuser plates turn flame into infrared heat and instantly vaporizes grease drippings/li>.
Hinged lid and lid handle for convenient opening and latch locks lid and grates down for transportation.
Built in temperature gauge.
Out of the box ready to cook in seconds.
True Seasoned Finish cast iron grill grate holds the heat and sears the mmeat.
---
---